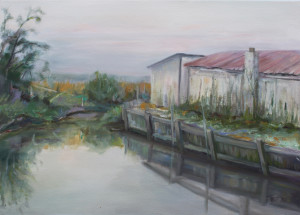 This past Wednesday morning I was honored to participate in a wonderful morning of art, words and music called Art in The AM. It was an event,, organized by Maribeth Fisher and sponsored by the Rehoboth Beach Writers Guild   www.rehobothbeachwritersguild.com ;         www.facebook.com/RehobothBeachWritersGuild 
I was one of three artists  to participate, (along with Faith Lord, Nick Serratore). We were joined by 9 writers and Stuart Vining, a wonderful musician. Each artist presented a painting. Three writers read an precomposed piece relating to the painting, followed by a visually inspired musical presentation. The artists then spoke about their work and what it meant to them.  I shared the painting above and was amazed by what Tom Richardson, Mimi Dupont & Chris Long, and Tom Hoye wrote. The three ( in this case 4) writers all in their own fashion keyed into what I felt was a tranquil setting for the passing of time, a glance at the past and an embracing of what change brings.
This is the second event I worked on with this group and both times I was moved by the level of creative writing and how each writer individually crafted a piece that spoke so intimately of my work.  And in this case by the addition of the music and voice of Stuart Vining.  It was both humbling and inspiring to be a part of.
As a painter who sees the world through visual imagery, an event like this points out how unique we all are and how life runs through the veins of each of us and is expressed in unique and different ways. Whether through paint, words or through music and voice, there is a spirit occupying a space in all of us that needs to be shared. It's always wonderful when there are others to share the journey with.