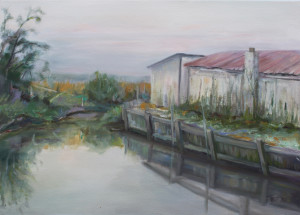 Are we born with talent and if so how much of a role does talent play in our success or failure? Over the last few years I have taught drawing and painting to many students and repeatedly told them that talent is overrated and one can learn to draw and paint if they put the the time in and commit to the process.
My feeling is that we are all born with certain gifts, call them talents or not. These are the things we are inclined to like doing, maybe the things we are meant to do.   Sometimes these gifts are supported by a parent, friend or a teacher. This support furthers our desire to fulfill these gifts; makes us feel like we have a special "talent". This positive reinforcement further  moves us toward success. We eventually find ourselves on this journey. At some point,  I believe, we choose to continue following this path or not. Life either gets in the way or moves us along. My take on talent has been that it is more what drives you to continue and less of an innate skill.
It's when we get on the right path and put in the hours that success follows. In Malcolm Gladwell's book "Outliers" he talks about 10,000 hours being the tipping point to success.  But he also talks about being born at the right time, having certain economic or intellectual advantages, and how that is a huge part of success. I can't disagree with the concept but its limiting. I think the point on commitment is the bigger catalyst, that opens the doors to success. When we emotional commit to who we are doors open and things happen. when we are conflicted we stagnate. These advantages are not just accidents.
"Outliers" was recommended to me by a previous commenter on this blog and I confess I am still reading it. It's a fascinating perspective on success and what contributes to it.
My take so far is that work and commitment are a major part of success, but seeing and seizing those opportunities, overcoming fear and being willing to challenge the unknown are what lifts those who succeed over the hurdle. I believe it's no accident that these opportunities occur for some people and not for others. That people call at the right time for an opportunity. It's being there emotionally, physically and spiritually that makes the difference. Talent is the driving force, in my opinion.
Whats your take on this?